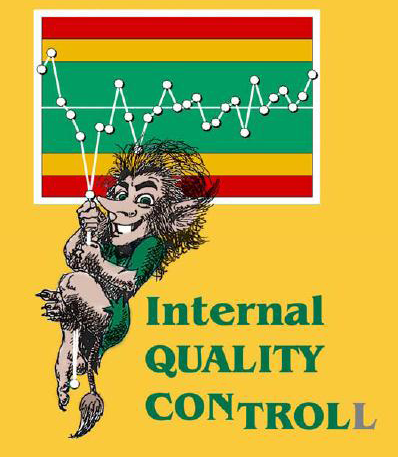 One more translation of Internal Quality Control  – Handbook for Chemical laboratories (Trollboken – Troll Book) in German –
Laborinterne Qualitäts Kontrolle – Troll Buch – 
is now launched.
The Troll Book is now translated to nine languages and more versions are in the pipeline. All can be from Nordtest free of charge. The new German version can be downloaded free of charge here.
The first version of Internal Quality Control  – Handbook of Internal Quality Control in Water Laboratories (Nordic cooperation) was prepared in 1984, and a revised version was printed in 1986 in Norway, best known under the name Trollboken.  Later it has been translated to several other languages, and has been widely used as a tool in chemical routine laboratories – especially in environmental laboratories.
This new version of the Handbook is an improved and extended edition, and the aim of it is – as has always been – that it should be a practical tool for the analysts in their daily work with the analytical methods.
During the years since the first version was prepared, there have been a lot of developments in the field of analytical quality. First of all the requirements for accreditation of analytical laboratories has put a pressure on the laboratories to document their analytical quality, and internal quality control is an important part of this documentation. Since the first edition of the accreditation standard was introduced, ISO/IEC 17025, there has been an increased focus on the concept of measurement uncertainty and traceability to a standard reference both in http://ywcanh.org/generic-online-cialis chemical and microbiological methods. When the laboratories estimate measurement uncertainty the results from internal quality control are essential. All these new demands have led to a need for a revision of the so-called Troll book.
The arrangement of the book has been changed to some extent, and in addition the chapters have been revised and updated. Several new practical examples have been worked out to demonstrate the applicability to different fields of chemical analyses.
Links to Trollboken for free download : NT TEC 569

NT TR 569; ed 4 German; Laborinterne Qualitätskontrolle Troll Buch

NT TR 569 edition 4 English: Internal quality controll handbook for chemical laboratories

N

T TR 569 Ed4 Italian Controllo della qualita interno

manuale per i laboaratori de analisi chimiche 
Link to edition 3 other languages:

NT TR 569 French Internal Quality Control – Handbook for Chemical laboratories

NT TR 569 Greek version Internal Quality Control – Handbook for Chemical laboratories

NT TR 569 Suomi – Finnish Internal Quality Control – Handbook for Chemical laboratories

NT TR 569 Svensk – Swedish Internal Quality Control – Handbook for Chemical laboratories

NT TR 569 Russian; ed 3; Внутренний контроль качества – Руководство для химических лабораторий

NT TR 569 Serbian; ed 3; Internal Quality Controll – Vodic za hemijske laboratorije